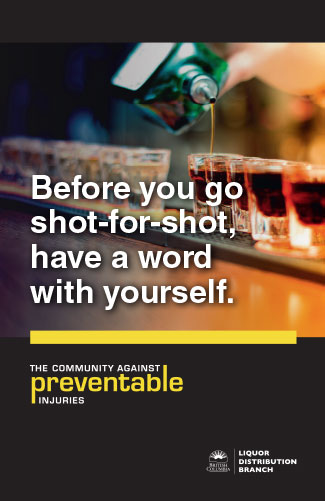 It's that time again: back to college and university. Time for getting together with friends, fun nights out, and frosh week. There's just one thing to remember: the risk of preventable injuries goes up when you're drinking. As in, a lot.
Every year, 475 BC residents die because of injuries related to alcohol. 63 of those are among youth and young adults ages 15-24.1 These deaths occur due to alcohol poisoning, drinking and driving, drinking and boating, falls, or burns that happen under the influence. In fact, alcohol was a factor in about a quarter of all deaths due to injuries in the province.1
We also know that 39% of BC college and university students had one or more harmful experiences that involved drinking, and 20% report binge drinking at least three days in the past month.2
Here's the thing: sometimes alcohol makes you take risks that are, well, stupid. Most of us have been in that situation where we realize we're doing something we would never do if we were sober. The fact of the matter is, that "one more" drink could be the one that leads to a serious injury for you or for a friend.
That's why this September, Preventable is proud to be partnering with the BC Liquor Distribution Branch (BCLDB) to pass on a message to students to have fun, but stay safe. The message "Before you go shot for shot, have a word with yourself" will appear in stores throughout the province, especially those located on or near post-secondary campuses.
We're not out to ruin the fun for students. It's just that we think you can still have fun while being safe. We encourage students (and everyone else too) to go out and have a great time—just make sure you know when to say when.
Sources:
BC Vital Statistics, Ministry of Health, BCIRPU Injury Data Online Tool, 2013.
British Columbia. Office of the Provincial Health Officer Public health approach to alcohol policy: an updated report from the Provincial Health Officer, December 2008.